Diesel tank
Level measurement in the diesel tank
Process data
Measuring task:
Level measurement
Measuring range up to:
10 m
Process temperature:
-20 ... +60 °C
Process pressure:
0 … 0 bar
Special challenges:
Changes in density due to temperature fluctuations
Application
Accurate measurement of tank content is an essential part of liquids logistics planning, especially when it comes to maintaining a sufficient supply of fuel for the vehicle fleet. Precise level measurement is required in order to ensure optimal stocking.
Your benefit
Reliable
Maximum confidence in measurement
Cost effective
Optimum fuel stocks for the vehicle fleet
User friendly
Simple installation and commissioning
Recommended products
VEGAWELL 52
Hydrostatic measurement of fuel level in the diesel tank
High measurement reliability and overload resistance due to self-monitoring CERTEC© measuring cell
Robust sensor, easily mountable via threaded fitting
Temperature measurement possible with HART sensor
Measuring range - Pressure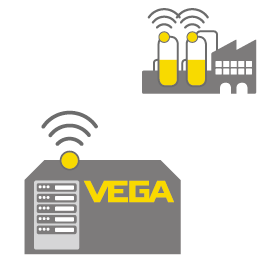 VEGA Inventory System
Software for acquisition and visualization of level data
Around-the-clock access to live data
Accurate, up-to-date information on filling levels
Numerous functions simplify inventory management
Fully automatic and timely notification of replenishment requirements
Increased security of supply
PLICSMOBILE T81
External wireless transmitting unit for HART sensors
Fast transmission of data from up to 15 HART sensors to the control centre
Remote diagnosis and maintenance
Transmission of level data via mobile network
High flexibility thanks to free choice of mobile network operator
Housing material
Plastic
Aluminium
Stainless steel (precision casting)
Input
up to 15 HART-capable sensors
up to 5 sensors with Ex applications (with transmitter power supply and passive)
Save application
Save this application as a PDF file.
PDF Download
Industry brochure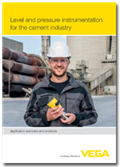 Level and pressure instrumentation for the cement industry