Bluetooth technology brings safety and convenience to process instrumentation
Introducing a display module for a mobile world
The tech industry figured out long ago that if a product goes more places and does more things, the market will find it. Smart phones and laptops are getting smaller and more functional, and wearable tech like smart watches are continuing the trend toward mobile convenience. Recently, wireless technology made a big splash in the field of process instrumentation.
VEGA, global manufacturer of process measurement technology, made a major announcement earlier this year: They introduced a version of their PLICSCOM display and adjustment module that features Bluetooth technology. This innovation represents a major step forward for process display and adjustment. The new PLICSCOM with Bluetooth increases operator safety and convenience, all while keeping plant data safe and secure.
A new version of an old favorite
PLICSCOM display modules are nothing new in the process instrumentation world. In fact, they've been on the market since 2002 when VEGA introduced their plics® instrument platform. PLICSCOM displays are famous for their modularity; a quick 90° turn allows users to move the same small display puck from instrument to instrument within a facility. This mobility is especially important when combined with the PLICSCOM's exclusive copy function. Simply put, a display can store a vessel's measurement parameters and copy those parameters to the next vessel. Operators in facilities with many vessels, therefore, only have to set up one instrument—the PLICSCOM does the rest. Vessel setup may only take a few minutes, but in applications with scores of tanks, those few minutes add up to several hours. The PLICSCOM copy function saves users a significant amount of time.
PLICSCOM has also been heralded for its ease of use. The digital module is much faster to adjust than HART displays, and its four-key operation pairs nicely with a clear, graphic-capable display for simple use. It even contains integrated lighting, and the heated version is designed to perform in low-temperature applications. Operators in need of various measurements across multiple industries have been pleased with the PLICSCOM for over ten years, but PLICSCOM with Bluetooth is bound to open up a new world of possibilities for the display and adjustment of all plics® sensors.
Safety first
Truth be told, process instruments are used in some dangerous places. Grain, flour, and commercial animal feed are often stored in silos well over 50 feet tall. Making the best use of space and getting an accurate level reading typically means installing a radar sensor at the top of the silo. This puts operators in a dangerous position when they want to make on-site adjustments, as they have to climb a narrow ladder while carrying a heavy backpack full of equipment. When they finally reach the top, they still have to cable their laptop into the sensor and manually make adjustments without falling or letting their equipment take a long tumble to the earth. The process is exhausting, time-consuming, and dangerous.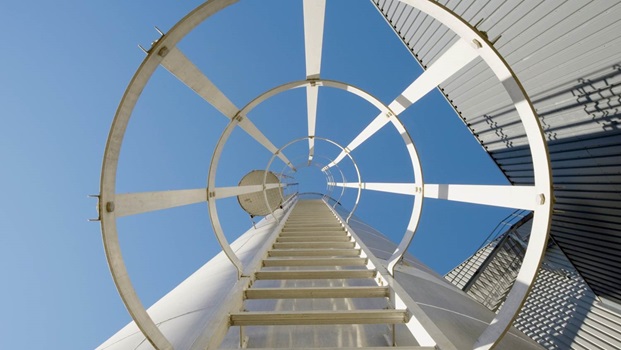 Refineries, chemical plants, and aggregate facilities are home to outdoor tanks and vessels that need monitoring and adjustment. Unfortunately for the men and women working at these facilities, that often means fighting the elements. Blowing dust, heavy rain, high winds, extreme temperatures, and even snow are common environmental challenges in the process industry. Yet the show must go on. Operators at outdoor plants must brave rough weather to keep the enterprise moving at optimal efficiency.
The new PLICSCOM with Bluetooth minimizes these common dangers, and in many cases eliminates them completely. Operators can now wirelessly connect to devices from a smartphone or tablet via the VEGA Tools App. The App, with an interface that looks nearly identical to PACTware/DTM software, allows users to check the measurements of a particular vessel and make minor adjustments from the safety and comfort of an indoor control area or a vehicle. Operable from a distance of approximately 80 feet, the VEGA Tools App shows the device type, serial number, and tag number of measurement instruments in range the same way a smartphone connects to wireless headphones or speakers. For a quick check of diagnostics or a look at current tank levels, nothing is more convenient than PLICSCOM with Bluetooth. For a complete picture of what's happening in a vessel and the power to make complex, granular modifications, plant operators can connect remotely via laptop, using a Bluetooth Smart USB adapter. With a simple and fast connection, users can configure their process as usual with the established PACTware and DTM drivers, but now they can do it from a safe, comfortable location.
Use in Ex areas
Working in an explosive atmosphere adds an extra layer of complexity to modular adjustment. For obvious safety reasons, the law requires plants to contain fires and explosions as much as possible in these hazardous environments. Typically, operators are mandated to use flameproof measurement sensors to remain legally compliant, and they are compelled to leave sensor lids closed until they obtain expensive authorizations and permits. Additionally, the law often prohibits commercial-grade laptops, smartphones, and tablets from use in Ex areas. VEGA has developed a solution for this problem as well.
Every PLICSCOM module with Bluetooth ships with a magnetic pen specifically for use in Ex areas. The pen can make adjustments through the window of a closed housing. In difficult, dirty environments, the magnetic pen allows users to get close to a sensor and make modifications without removing their gloves. Best of all, keeping the housing lid closed during adjustment means hot work permits are unnecessary, saving plants money, time, and stress. This convenience has been unavailable to the process industry until now.
A secure connection
Data security is of the utmost importance in the digital age. The free flow of information across wireless networks demands companies of all kinds to erect digital fortresses to protect themselves from hackers and cybercriminals. PLICSCOM with Bluetooth is armed with two shields of data security. The first is a PIN that syncs an individual device with the VEGA Tools App, similar to what one would input to open a safe or to access their checking account at an ATM. Authorized users have the ability to change the PIN at any time to maximize security. The second line of defense for the VEGA Tools App is encryption software that keeps unapproved users from accessing data. This dual-approach to data security keeps process information in trusted hands.
The future is now
VEGA's PLICSCOM with Bluetooth moves process instrument display and adjustment technology into the 21st Century. Wireless connection to plics® instruments brings safety, mobility, and convenience to users in all industries. Instruments installed in challenging locations, applications vulnerable to weather, and hazardous environments are easier to reach than ever before. Users aren't even required to buy new sensors to use PLICSCOM with Bluetooth. The module is backwards compatible with the entire installed base of more than 1.5 million plics® sensors in use around the globe. PLICSCOM with Bluetooth is just the latest way VEGA is looking forward.