VEGA Americas welcomes customers
Local end users learn more about the VEGAPULS 64
On July 7th, 2016, VEGA Americas partnered with representative firm Temco, Inc. for a unique event. The leaders in radar instrumentation welcomed Temco's Midwestern customer base to their Cincinnati, Ohio campus for a presentation on VEGA's latest innovation, the VEGAPULS 64. The audience included end users from wastewater facilities, chemical plants, energy companies, and the food and beverage industry.
The presentation began with a brief history of VEGA's development of radar instruments. The audience learned that the VEGAPULS 64 was born out of customer need. After hearing a positive market response to the VEGAPULS 69—an 80 GHz sensor for use with bulk solids—VEGA knew it had to make the same 80 GHz technology available for liquid level applications. In a matter of months, the VEGAPULS 64 was on the market and changing the process automation industry. Once the history lesson was over, the real fun began.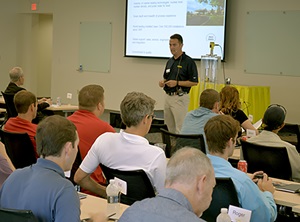 The crowd was treated to creative demonstrations of features that have made the sensor such a success. To display the sensor's signal focusing, VEGA's Product Manager for radar mounted a VEGAPULS 64 atop a plastic column with a series of plastic discs inside. The discs, approximately six inches apart, simulated the blades of an agitator, a common obstruction in the process industry. The audience saw in real time how the ultra-focused sensor ignored the column's internals and received a large signal from the liquid inside. A similar setup was used to showcase the VEGAPULS 64's incredible performance through foam and on small tanks.
The next exhibition proved the sensor's worth in applications with ball valves. The VEGAPULS 64 was placed antenna up on the floor, so it measured to the ceiling. A 3" ball valve was carefully placed on the antenna and the signal from the ceiling was still clear with minimal interference from the valve. The addition of a 24" nozzle had no effect on the instrument's performance. That ball valve was replaced with a larger 4" valve, and even in combination with the same long nozzle, the VEGAPULS 64 received a clear signal from the ceiling.
To demonstrate the sensor's immunity to buildup and condensation, VEGA's radar experts brought out something no one in the audience expected to see during the presentation: a jar of peanut butter. The audience saw that the peanut butter—creamy, if you're curious—did not create false signals at the top of the level reading.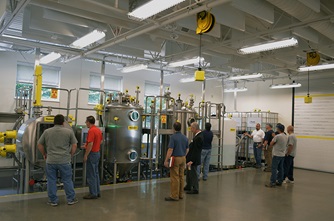 After a brief showing of how operators can use their smart phones to check process levels using PLICSCOM with Bluetooth, VEGA showed their guests around the Learning Center Lab. Part of a recent expansion, the Learning Center Lab shows visitors, representatives, and customers how VEGA's products work on live vessels. The day ended with a tour of the entire campus, with an emphasis on manufacturing innovation.