VEGAPULS WL 61
Radar sensor for continuous level measurement of water and wastewater
Radar level sensor for water management
Application area
Its flood-proof IP 68 housing ensures maintenance-free operation. The sensor is operated via the signal cable (HART, Profibus PA or FF) or via Bluetooth.
The VEGAPULS WL 61 is the ideal sensor for all applications in water and sewage water applications. It is particularly suitable for level measurement in water processing, pump stations as well as overflow basins, for flow measurement in open flumes and gauge monitoring. The VEGAPULS WL 61 is an economical solution through versatile and simple mounting options. The flood-proof IP 68 housing ensures a maintenance-free permanent operation. Optionally with integrated Bluetooth module for wireless communication via smartphone, tablet or PC.



As alternative, new radar sensors with fixed connected cable VEGAPULS C 11, C 21, C 22 or C 23 are available for this instrument.
Your benefit
Exact measuring results independent of medium, process and ambient conditions
High plant availability, because wear and maintenance-free
Maintenance-free operation through non-contact measuring principle

Newer product available
There is a successor for this product. If you have any questions about the product, please contact your VEGA representative.
VEGAPULS C 21
Application
Technical specifications
Documentation
Accessories
The specialist for level measurement of water and sewage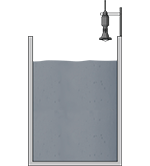 The new radar sensor VEGAPULS WL 61 covers the many areas of application in water management: the application spectrum of this radar sensor specialized in water and sewage measurement extends from level measurement in pump shafts or in rain overflow basins to flow-rate measurement in open flumes right up to level measurement of rivers and lakes. In a stormwater overflow basin, the radar sensor is used for level and overflow volume measurement.
Technical specifications
Measuring range - Distance
Process pressure
-1 ... 2 bar
[

Bar

-

kPa

-

psi

]
Version
with plastic horn antenna ø 80 mm
Output
Profibus PA
Foundation Fieldbus
4 … 20 mA/HART - two-wire
Approvals
Scope
ATEX / Europe
CSA / Canada
FM / USA
EAC (GOST) / Belarus
EAC (GOST) / Kazakhstan
EAC (GOST) / Russia
IEC / worldwide
UKR Sepro / Ukraine
Display & adjustment
Adjustment
PC, PACTware and DTM
HART-Communicator
Software (e. g. AMS™, PDM)
Wireless adjustment via Bluetooth with smartphone/tablet/PC
Product information
VEGAPULS WL 61, 61, 62, 63, 64, 65, 66
Specification sheet
VEGAPULS WL 61
4 … 20 mA/HART - two-wire
Operating instructions
VEGAPULS WL 61
4 … 20 mA/HART - two-wire
Further downloads for this product
All documents and software for this product can be found in our Download Center.
Show all downloads
Indicating instruments
Controllers
Separating instruments
Accessory
;
myVEGA
With myVEGA as your personal information platform, you'll have at your disposal numerous online functions revolving around the VEGA products.
Configurator for the entire VEGA product range
Information about prices and delivery times
Order directly online
Saving of configurations
2D/3D drawings of your configured instrument
Overview of order transactions
Still no access?
Register for free
Log into myVEGA
Here you can log in with your access data in myVEGA.
Forgot password?
Forgot password
Enter your e-mail address and we will send you a link to reset your password.
Reset password Cancel
We´ve sent you an email to reset your password.
Sorry, your password could not be changed.