Ultrasonic was yesterday – the future is radar!
Compact level sensors with 80 GHz radar technology provide reliable measurement results under all conditions.
Online Live Demo
In 30-minute live demonstrations, our product managers will show you the functionality and advantages of the new instruments. You can ask questions in the chat that takes place afterwards.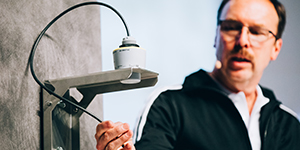 Advantages of radar technology compared to ultrasonic sensors
Where ultrasonic level measurement reaches its limits
Compared to ultrasonic measuring instruments, radar sensors measure unaffected by temperature fluctuations, vacuum or high pressures and are insensitive to contamination. 80 GHz radar sensors also convince with very good signal focusing. This makes it easier to separate measurement and interference signals - the measurement is much easier and more accurate.
Level sensors

With cable connection compartment

Protection IP66/IP67, Type 4X

With fixed cable connection

Protection IP66/IP68, Type 6P

Measuring range up to 8 m
Accuracy ± 5 mm
Process temperature -40 … +60 °C
4 … 20 mA

Measuring range up to 15 m
Measuring accuracy ± 2 mm
Process temperature -40 … +80 °C
4 … 20 mA
Explosion protection

VEGAPULS C 21

With axial cable outlet, supplementary outputs: Modbus, SDI-12

£ 563.00

› Show Product

VEGAPULS C 22

With lateral cable outlet, supplementary Outputs: Modbus, SDI-12

£ 563.00

› Show Product

Measuring range up to 30 m
Measuring accuracy ± 2 mm
Process temperature -40 … +80 °C
4 … 20 mA, HART, Modbus, SDI-12
Explosion protection
New heart for radar sensors
Today, radar sensors can be found in all areas of everyday life, from simple motion detectors for door openers to complex distance sensors in vehicles. However, the requirements for industrial level measurement differ considerably. The radar microchip newly developed by VEGA has been specially optimized for the requirements of level measurement. Thanks to the small design, very compact sensors are now possible These are significantly less expensive and can replace the previous ultrasonic sensors in almost all applications.
Optimized for the reflection properties of different media
Smallest design for the construction of compact sensor technology
80 GHz technology for a very good Signal focusing
High accuracy in wide temperature ranges
Low energy consumption optimized for level measurement
Integrated function monitoring reduces maintenance costs
Controllers
The optional VEGAMET controllers complement VEGAPULS radar sensors and are ideal for the requirements of the water and wastewater industry. They allow a simple implementation of pump controls, flow measurements in open channels and overfill protection according to WHG.
Controllers

Large graphic display, weatherproof field housing

for one sensor

for two sensors

VEGAMET 841

Input: - 1x 4 … 20 mA output: - 1x 0/4 … 20 mA current output - 3x operating relay

£ 369.00

› Show Product

VEGAMET 842

Input: - 2x 4 … 20 mA sensor input output: - 2x 0/4 … 20 mA current output - 3x operating relay

£ 509.00

› Show Product

for analogue and digital sensors
Data logger

VEGAMET 861

Input: - 1x 4 … 20 mA/HART sensor input - 2x digital input output: - 1x 0/4 … 20 mA current output - 4x operating relay

£ 517.00

› Show Product

VEGAMET 862

Input: - 2x 4 … 20 mA/HART sensor input - 4x digital input output: - 3x 0/4 … 20 mA current output - 6x operating relay

£ 657.00

› Show Product
Interconnected solutions
Online-Tools
During the development of the new compact device series, the focus was also on simple assembly and operation. In this way all parameters can be set quickly. Via the VEGA Tools app also wirelessly via smartphone or tablet. With myVEGA you also get all the information you need about your products.
Wireless adjustment
With Bluetooth, VEGA is looking far into the future. But already today, radio technology is making processes more and more flexible. Wireless communication provides better accessibility: In clean rooms, in harsh industrial environments and in hazardous areas. It allows parameterisation, display and diagnostics from a distance of up to 25 metres, thus saving time and avoiding dangers. Simply via VEGA Tools app – on any available smartphone or tablet.
myVEGA
With myVEGA as your personal information platform you have access to numerous online functions relating to the VEGA products.
2D/3D drawings of configured instruments
Access to product documentation and order data
Access codes for VEGA sensors
Our service for you
Consultation
Every application is different and has its own special challenges. You'd like to talk with an expert and work out together with him which sensor best fulfils your requirements? Just give us a call. We're happy to give advice and help you select the right instrument.
Personal consulting
VEGA Controls Ltd.
Kendal House, Victoria Way
Burgess Hill, West Sussex
RH15 9NF
United Kingdom
Tel.: +44 1444 870055
Fax: +44 1444 870080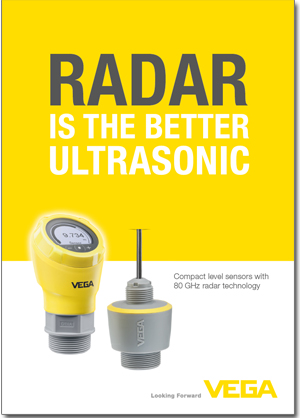 Download now
Brochure radar is the better ultrasonic
Compact level sensors with 80 GHz radar technology