Continuous catalyst regeneration
Level measurement and point level detection of catalyst
Process data
Measuring task:
Level measurement and point level detection
Measuring point:
Vertical column
Measuring range up to:
20 m
Medium:
Liquid distillate naphtha
Process temperature:
+230 … +400 °C
Process pressure:
+20 … +60 bar
Special challenges:
High process temperature
Application
Platformers and reformers, both catalyst-based processes, require "fresh" catalyst at a given point in their cycle. To provide fresh catalyst without shutting down the process, a continuous catalyst regeneration unit can be installed. This unit regenerates the spent catalyst so that it can be used again. Maintaining the proper level in the vessel ensures that the expensive catalyst is used at the highest level of efficiency without waste.
Your benefit
Reliable
Non-invasive measurement ensures high plant availability
Cost effective
Lightweight design reduces mounting costs
User friendly
External mounting does not interrupt the process
Recommended products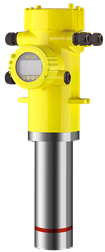 POINTRAC 31
Radiation-based sensor used as point level switch for catalyst regeneration reactor measurement
Thanks to lightweight sensor design, no special mounting equipment is required
Compact and lightweight detector mounts easily
Secure and reliable level measurement thanks to non-contact measuring technique, ideal for all process conditions
Measuring range - Distance

FIBERTRAC 31
Radiation-based sensor for continuous level measurement
Simple function test during operation reduces down time and resulting costs
Secure and reliable level measurement thanks to non-contact measuring method
Long detector length up to 7 m minimizes the need for additional platform construction
Measuring range - Distance