VEGA is growing worldwide
New office buildings inaugurated
These modern new office buildings represent VEGA's investment in the future and in its employees, who should be able to enjoy comfortable, efficient and inspiring workspaces. "We spend a large part of our time at the office. For that reason, it should feel not like a workplace, but like a second home," explained Isabel Grieshaber, Managing Partner of VEGA, at the opening of the new building in South Africa. This goal was also achieved at the other three locations.
Great Britain:
The British subsidiary VEGA Controls is located south of London. Nearly 50 employees work in the climate-neutral, spacious building, which offers plenty of space to conduct seminars and training courses in. It's a resource that customers appreciate and take advantage of again and again.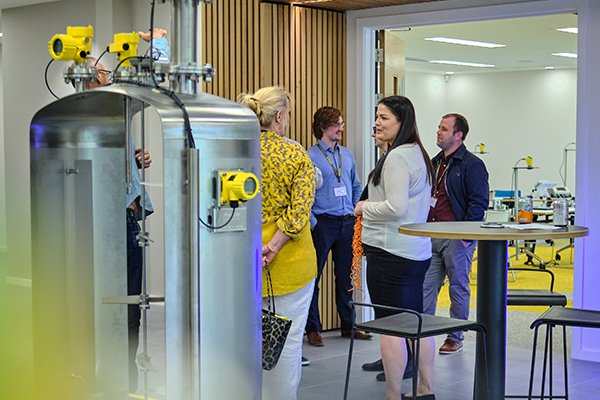 VEGA Controls' new company building in Great Britain offers lots of space for instruction and training.
USA:
The approximately 400 employees at VEGA Americas in the USA are also very happy about their new building, and especially about its expanded capacity for training. In Mason (Ohio), near Cincinnati, the 21,000 square-metre building complex with offices, innovative assembly and production facilities as well as a modern training centre, including an extensive demo facility, was opened in autumn 2022. The new location has significantly increased production capabilities in the USA. "We're investing in our capabilities so that we can offer our customers even better service," said Managing Director John Groom, summarising the many advantages of the new company building at the inauguration.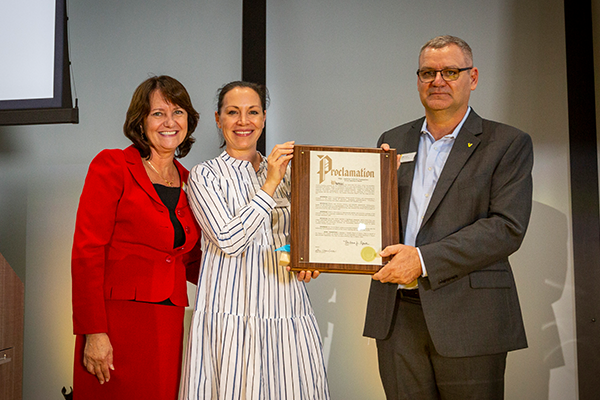 Barbara Spaeth (left), mayor of Mason, declares the opening day an official VEGA day and presents Isabel Grieshaber, managing partner of VEGA Grieshaber KG, and John Groom, managing director of VEGA Americas, with the appropriate certificate.
South Africa:
Modern working conditions, open architecture and more customer proximity are also made possible by VEGA South Africa's new, 15,000 square-metre building in Johannesburg. The new complex provides space for increased warehousing, and thus the potential to greatly reduce product delivery times. It also means there is more space for training courses and room to grow in terms of personnel. At the new location "we can double the number of employees and still feel comfortable", said the very pleased managing director, Frikkie Streicher, in his opening speech.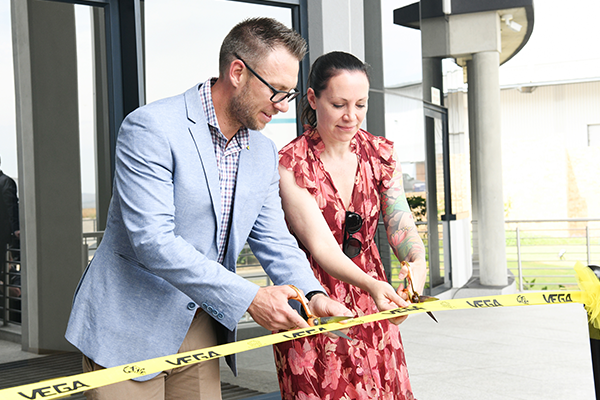 Festive inauguration: Frikkie Streicher, managing director of VEGA South Africa, and Isabel Grieshaber, managing director of VEGA Grieshaber KG, cut the opening ribbon.
Spain:
The employees of VEGA Instrumentos also feel really at home in their new domicile in Sant Cugat del Vallés, 15 minutes from Barcelona. The architecture of the modern building features lots of wood – as a reference to VEGA's headquarters in the Black Forest and out of respect for nature and local resources. Mediterranean colour accents created the connection to Spain and, together with the otherwise minimalist design, ensure a coherent overall picture in which great value was placed on sustainability. "I'm confident that, together, we'll continue to grow and be in a position to offer our customers innovative and reliable solutions for a long time to come," said managing director Carlos Montala at the inauguration – speaking not only for Spain, but for all VEGA subsidiaries.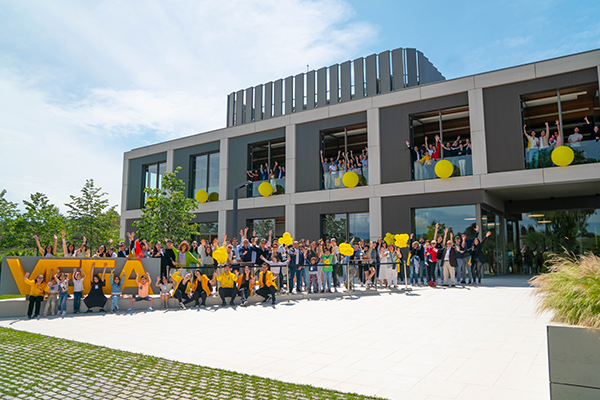 Hurra – VEGA Spain celebrates the opening of its new company building.