Feed pellet silo
Level measurement in feed pellet silos
Process data
Measuring task:
Level measurement
Measuring range up to:
40 m
Process temperature:
-30 ... +40 °C
Process pressure:
0 … 1 bar
Special challenges:
Dust generation, silo internal installations, greasy pellets
Application
As well as the type of fish being farmed, it is the feed coefficient, the so-called "fish in – fish out" ratio, that determines the required quantity and appropriate composition of feed. To ensure on-time availability and optimal feed composition, reliable stock level monitoring is necessary. The feed stocks, from production to delivery and distribution, are visualised and reliably managed. Automatic ordering processes are triggered by VEGA Inventory System.
Your benefit
Reliable
Constant data availability due to reliable measurement
Cost effective
Always optimal quantities and ideal mixing ratios in stock
User friendly
Automatic ordering thanks to VEGA Inventory System
Recommended products

VEGAPULS 6X
Non-contact level measurement with radar in the feed silo
Maintenance-free and wear-free operation thanks to non-contact measuring principle
Reliable measurement unaffected by dust and noise
Easy alignment of the sensor via integrated swivelling holder and app for smartphone
Measuring range - Distance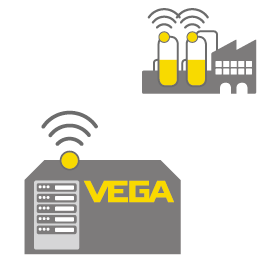 VEGA Inventory System
Software for data acquisition and visualisation of level data
Easy access to live data around the clock
Accurate, up-to-date information on tank levels
Simplified management through a wide range of functions
Fully automatic and timely notification of re-supply requirements
Increased security of supply