Dam of the hydroelectric power plant
Flow measurement at the dam
Process data
Measuring range up to:
0.5 m
Process temperature:
+5 … +10 °C
Process pressure:
0 … 0 bar
Special challenges:
Very humid atmosphere, condensation
Application
The seepage water in the dam of the hydroelectric plant is collected in pipes or channels. The quantity of seepage water provides information on the condition of the dam (another indicator of the condition of the dam is the clouding of the seepage water which is also assessed). The quantity of water flowing in an open channel is measured via water head height as it passes through a 'V' notch, flume or weir structure, which is then calculated into flow rate.
Your benefit
Reliable
Reliable flow measurement allows reliable detection of leaks in the dam
Cost effective
Sensor with high protection rating for long service life, even under extremely humid conditions
User friendly
Easy setup via external display and adjustment unit
Recommended products
VEGAPULS C 21
Non-contact flow measurement with radar at the dam of the hydroelectric power plant
Non-contact, high accuracy flow measurement
Unaffected by environmental influences
Simple set up with integrated flow characteristics
Measuring range - Distance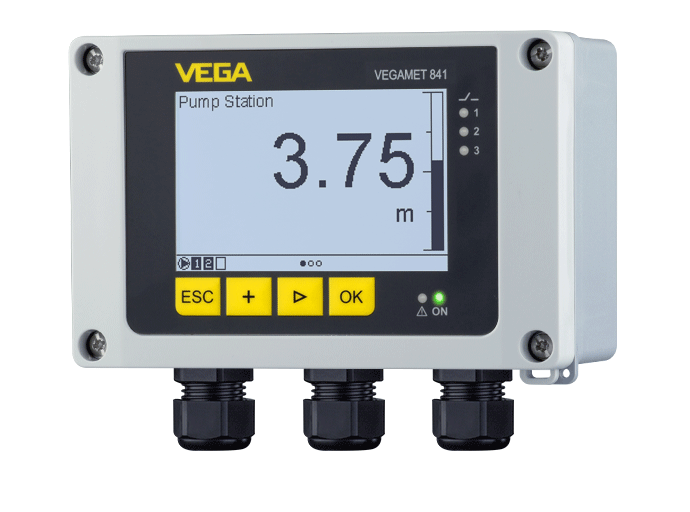 VEGAMET 841
Flow computation, control and display for open channel flow measurement structures
Highly accurate calculation of the flow rate
Clear, simple display of flow rate and total flow volume
Fast setup and commissioning thanks to simple menu navigation and application wizards
Input
1 x 4 … 20 mA sensor input
Output
1 x 0/4 … 20 mA current output
3 x operating relay
1x failure relay (instead of operating relay)