Better air in schools and kindergartens
Providing schools and kindergartens with optimal ventilation
Thanks to this effort, the air in many kindergartens and classrooms between Steinach, Alpirsbach and Schramberg is measurably fresher and the risk of Covid reduced. CO₂ traffic lights now indicate exactly when the rooms should be aired out: These are basically measuring devices that light up green, yellow or red depending on the current quality of the air. The good idea for this came from trainees in the Grieshaber Group – and they were also present when these beneficial devices were handed over to the various institutions.

When VEGA, Grieshaber or Supfina trainees turn their ideas and experiments into real products, the young technicians get recognition for they've accomplished. Their successful projects are presented regularly to their bosses and colleagues. This year, one Grieshaber trainee team impressed not only their instructors with the self-designed CO₂ sensors: VEGA managing director Isabel Grieshaber was also very enthused about the handy, round measuring instruments. And she was impressed not only as a businesswoman, but most of all as a mother of three small children of school and nursery age.

Good air is a matter for the boss
How do you actually ventilate kindergartens and classrooms properly? For a long time, every school in the region answered this question in its own way. And that's no wonder, when even the official recommendations of the Federal Environment Agency, the Max Planck Institute and the Technical University of Berlin differ widely. Many earlier generations of pupils certainly still know from their own experience what happened when someone wanted to air out the classroom: the result usually varied between "continuous ventilation in the freezing cold" and "stuffy air when the window was only briefly tilted open." Isabel Grieshaber was convinced that "we need CO₂ traffic lights in all schools," and thus gave the impetus to turn a small trainee experiment into a large development project.

Airing out a room can be fun

"Fortunately, the CO₂ sensors put an end to the long discussions about when the right time to air out a room is," says Felix Göpper, who, as a teacher at the Haslach Education Centre, received one of the measuring devices for his classroom already last summer. Sabrina Kasper, director of the St. Martin kindergarten in Schiltach, has noticed that the children are now thinking about ventilation and actively helping. "The sensors not only increase safety, but are also making the time spent in the classroom more fun," she explains.
Good for the budget
The donation of the protective CO₂ traffic lights by the Grieshaber Group effectively relieves the pressure on many a school budget. But the technicians, designers and creators of the 600 measuring devices are convinced that they, too, have benefited. The trainees emphasise that they have learned "an enormous amount": "Helping to design a project and a new product from the very beginning, delivering it yourself and seeing it in use is definitely a highlight of an apprenticeship," says Marvin Herrmann. He and his apprentice team would be even happier if the sensors in some way contribute to the decision to allow schools to remain open during the current fourth wave of Corona.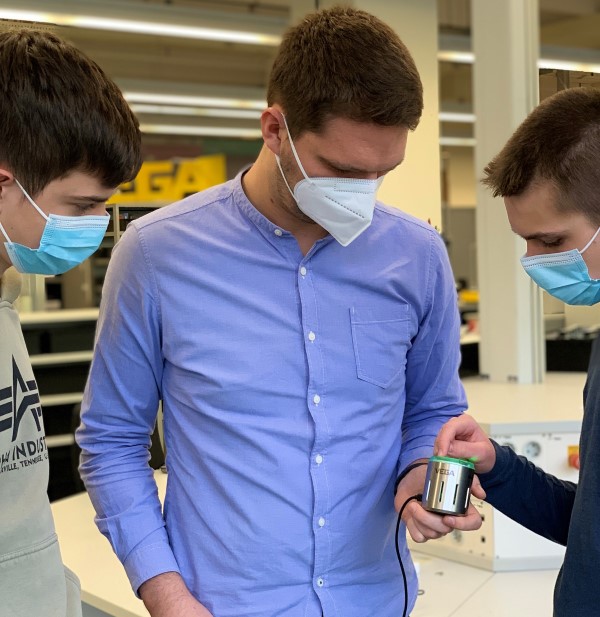 🔴 RED = High CO₂ content. Room needs to be aired out now.
🟠 YELLOW = Room should be aired out soon.
🟢 GREEN = Everything is OK. The window can stay closed for the time being.

❓ Why is good ventilation so important?
In rooms where many people are present, breathing increases the CO₂ concentration, which is why you should air out the rooms regularly.

❓ What is CO₂?
CO₂ stands for carbon dioxide, the gas we breathe out. It is produced during combustion processes, but humans are also a source of CO₂. Too much CO₂ in the air is harmful.