Because simple is best
Three VEGA sensors win the Red Dot Design Award
The art of designing a good level or pressure measuring instrument lies in recognising the factors that advance their application. That's why VEGA is always questioning every component anew: from the materials to the user interface.

Awarded three times
The components that make the grade have what it takes: They are then truly self-explanatory, functional and durable. For this reason, the Black Forest company has now received the Red Dot Design Award 2021 for three new compact sensors of the VEGAPULS, VEGABAR and VEGAPOINT series.

The best solution is the simplest one possible:
"VEGA is simple", explains Managing Director Rainer Waltersbacher. "We are known for this core idea, and we've brought it to perfection in product design." VEGA's approach is based on many years of experience and lots of thorough research, which ultimately ensures that a new product will be able to perform all functions required of it. The central aim, says Waltersbacher, is "to make the best solution as simple as possible for the user."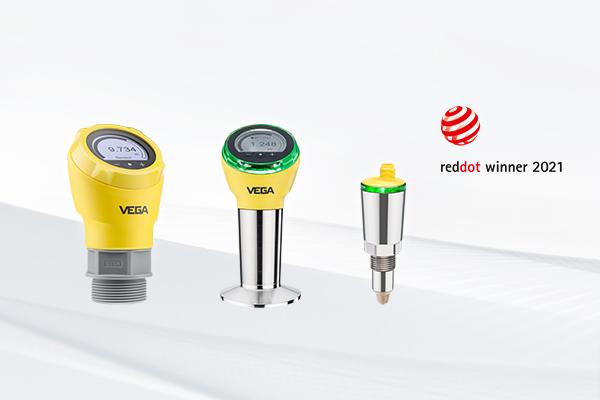 On display at the design exhibition
Explaining their reasoning for the award, the jury emphasised the unique combination of precision and simplicity in the sensors. They were especially impressed by the "sophisticated design" and "well thought-out handling", because only these features can ensure "absolute process reliability".
Freshly awarded, the sensors will be on display in the "Design on Stage" exhibition at the Red Dot Design Museum in Essen. A good opportunity to see for yourself and experience the intuitive simplicity and aesthetic quality of the instruments live.
More about the award-winning sensors
> VEGAPULS radar level sensors