Washing line
Level measurement in the washing line
Process data
Measuring task:
Level measurement
Measuring range up to:
1 m
Medium:
Water and tomatoes
Process temperature:
-10 … + 40 °C
Process pressure:
0 … 0 bar
Special challenges:
Contamination, splashing water, frothing
Application
Tomatoes are unloaded from the truck into the basin and, with the help of water, pumped through the washing line. Heavy materials such as stones and mud sink to the bottom and are caught by a flow in the opposite direction. The tomatoes are washed with high-pressure air blowers. The radar sensor enables accurate level measurement, ensuring an optimal flow of tomatoes.
Your benefit
Safe
Reliable measurement despite turbulence and froth
Cost effective
Optimal tomato washing thanks to reliable measurement
User friendly
Simple mounting and setup
Recommended products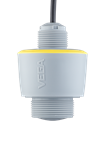 VEGAPULS C 11
Continuous level measurement with radar in the washing line
Reliable measurement unaffected by contamination and splashing water
Long service life thanks to robust construction and IP68 protection
Precise measuring results despite frothing and turbulence
Measuring range - Distance