Inlet channel
Flow-rate measurement in open channels
Process data
Measuring task:
Flow measurement
Measuring range up to:
0 … 1 m
Process temperature:
0 ... +40 °C
Process pressure:
0 … 0 bar
Special challenges:
Condensation, fog, wind, solar radiation
Application
Sewage and rainwater are often transported to the treatment plant in open collection channels or flumes. The flow rate is measured at various points in these channels. Measurement of the water flow at the inlet and outlet of the treatment plant is the basis for the calculation of tariffs and operating costs.
Your benefit
Reliable
High measurement accuracy, independent of temperature influence
Cost effective
Low maintenance requirements
User friendly
Flow-proportional output signal
Recommended products
VEGAPULS C 21
Flow measurement of the wastewater inlet with radar in an open channel
High plant availability thanks to wear and maintenance free measurement
Exact measuring results unaffected by ambient conditions.
Sensor-integrated flow characteristic curves make it also possible to have a direct flow-proportional output signal
Secure wireless operation through Bluetooth with smartphone, tablet or PC
Measuring range - Distance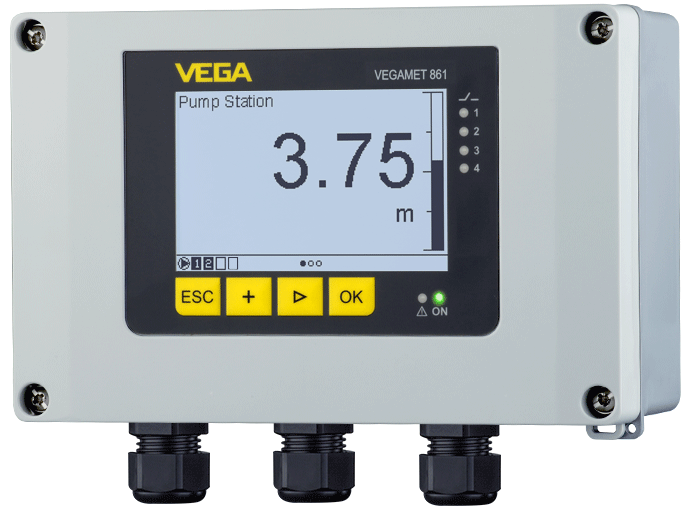 VEGAMET 861
Flow computation, control and display for open channel flow measurement structures
Highly accurate calculation of the flow rate
Clear, simple display of flow rate and total flow volume
Fast setup and commissioning thanks to simple menu navigation and application wizards
Input
1 x 4 … 20 mA/HART sensor input
2x digital input
Output
1 x 0/4 … 20 mA current output
1x failure relay (instead of operating relay)
4x operating relay
Save application
Save this application as a PDF file.
PDF Download