Sensors for the food industry
The processes of the food industry place very high requirements on hygiene. VEGA sensors are the right "ingredient" for processing raw materials such as sugar or starch and for the production of beverages, dairy products or chocolate products.

Level and pressure instrumentation for all measuring tasks
VEGA sensors are well equipped for the complex measuring tasks in process automation – from the measurement of viscous liquids in small containers, with stirrers or heating coils, to fine powders or abrasive bulk solids. Thanks to their versatile connection options, they can be easily integrated into any application in the process.
Easy cleaning – reliable processes
Hygiene, speed and flexibility
To help ensure hygienic and stable food production processes, VEGA offers materials specially tailored to the strict requirements of the industry – with all necessary approvals and material properties according to FDA and EG 1935/2004. Our hygienic designs meet the requirements of EHEDG and 3-A Sanitary.
Expertly designed
The sensors are especially characterised by their flush process connections and leakproof, robust housings (IP69K). Even while operating they can be CIP-cleaned with almost any cleaning agent up to 2 hours at 150 °C.
Perfect cleanability
VEGA sensors have been specially developed for the needs of the food industry, which are fulfilled by reliably protected seals, all-metal housings and media-contacting surfaces with a low surface roughness approaching 0.3 µm.

Standardised hygienic adaptors
The standardised connections of the hygienic adaptors, which guarantee high system availability, can be selected as needed. Installing the adaptors requires only minimal effort. The end-to-end concept allows simple integration and fast maintenance – it also reduces spare parts inventories and production downtime.
Efficient CIP cleaning
Cleaning in Place (CIP) refers to a method for cleaning processing facilities such as those used in food production.
During CIP cleaning, different liquids are pumped through the system piping. The cleaning media used are caustic and acidic solutions, some in high concentrations, often at extremely high temperatures.
VEGA sensors ensure that all required liquids are always available in sufficient amounts and reliably withstand the complex processes.
Level sensors for the food industry
Level sensors

For continuous measurement

For liquids

For bulk solids

Instrument platform plics®

Custom-made sensors for any measuring task
Diverse connection options
Standardised hygienic adapter for level, pressure and point level sensors
Any common adapter system that complies with EC 1935/2004, FDA, EHEDG, 3-A can be used for level sensors as well as for pressure and point level sensors. Whether all metallic or with elastomer O-ring sealing: The sensors fit all standard, commercially available hygienic connections.
Flexible and simple integration
Fast exchange
Reduced production downtime
Fewer instrument versions in stock

Reliable processes – consistent product quality
VEGA sensors deliver a convincing performance in applications that require a perfectly hygienic environment: they minimize maintenance and downtime while significantly increasing safety and efficiency. High-quality materials withstand the aggressive cleaning agents: the hygienic design is free of gaps and dead spaces and precludes leakage even during steam jet cleaning.
Agitator and spray ball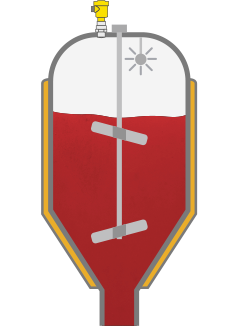 Radar sensor VEGAPULS 64 for continuous level measurement
Reliable measurement despite vessel internals and agitators thanks to highly focused radar beam
Heating coils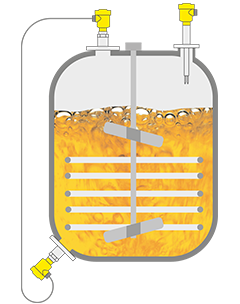 Electronic differential pressure measurement with VEGABAR 83 for level measurement
Reliable measurement of level and pressure, unaffected by heating coils
Vibrating level switch VEGASWING 61 for point level detection
Reliable overfill protection through product-independent switching point
Dry-run protection for pumps

Vibrating level switch VEGASWING 61 for point level detection
Reliable function thanks to product-independent switching point
Bottling tank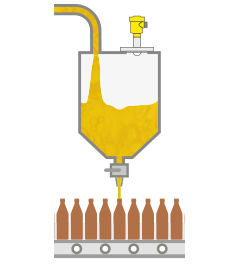 Radar sensor VEGAPULS 64 for continuous level measurement
Fast response to rapid level changes, even in small containers
Bulk solids silo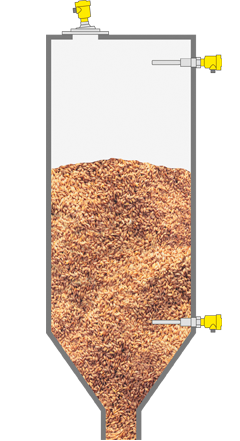 Radar sensor VEGAPULS 69 for continuous level measurement
Reliable measured values, unaffected by dust and buildup
Vibrating level switch VEGAWAVE 61 for point level detection
Reliable detection, even in applications with light bulk solids
Maximum system availability
VEGA supports efficient processes with the right components: with sensors that detect even the smallest level or pressure changes and that can be installed very quickly with standard fittings. M12 and valve plug connectors make a significant contribution to reducing the costs of automated processes to a reasonable level.
Cooling and heating system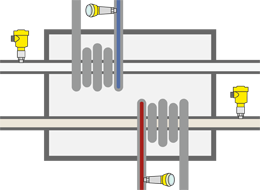 Pressure sensor VEGABAR 29 with metallic measuring cell and IO-Link connection
Precise pressure measurement for an optimal heating or cooling process
Bottle cleaning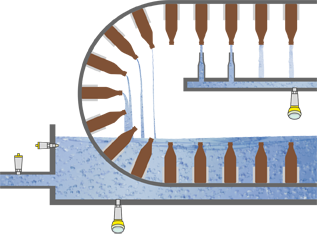 Capacitive level switch VEGAPOINT 21 for point level detection
Pressure switch VEGABAR 28 with ceramic measuring cell and IO-Link connection
Full-colour, 360° switching status display for easy recognition of switching status
Dry run protection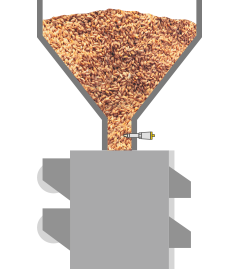 Capacitive level switch VEGAPOINT 31 for point level detection
Reliable level detection even under dusty conditions
Separator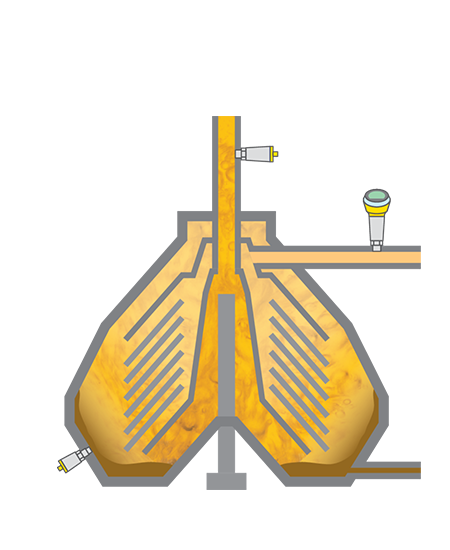 Pressure sensors VEGABAR 29 and 39 with IO-Link connection
Reliable measurement thanks to fast response time
Capacitive level switch VEGAPOINT 21 for reliable point level detection
Reliable switching point, not affected by buildup
Hydraulic oil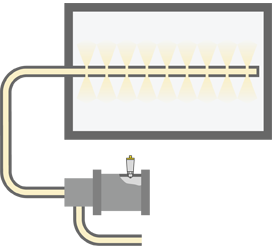 Pressure sensor VEGABAR 29 with IO-Link connection
Pressure switch for optimal piston control
Interconnected solutions
Online-Tools
To ensure that production facilities are competitive today and stay competitive tomorrow, process cycles have to be optimized and costs reduced – without compromising quality. With intelligent networking and unique services, VEGA makes processes noticeably more efficient and reliable throughout the entire value-added chain.
Wireless adjustment
With Bluetooth, VEGA is looking far into the future. But already today, radio technology is making processes more and more flexible. Wireless communication provides better accessibility: in clean rooms, in harsh industrial environments and in hazardous areas. It allows parameterisation, display and diagnostics from a distance of up to 25 metres, thus saving time and avoiding dangers. Simply via VEGA Tools app – on any available smartphone or tablet.


myVEGA
With myVEGA as your personal information platform you have access to numerous online functions relating to the VEGA products.
2D/3D drawings of configured instruments
Access to product documentation and order data
Access codes for VEGA sensors
VEGA Inventory System
Lower inventory levels mean lower costs. VEGA Inventory System makes all important process and forecast information visible and easy to grasp. Measuring instruments installed on containers, tanks or silos automatically inform the user when replenishments are required. In your plant, the user-friendly service software accesses not only current measurement data, but also consumption data from previous operating periods.

IO-Link
VEGA uses IO-Link to make optimal use of all possibilities. With this manufacturer-independent, standard communication tool, sensors can be installed, parameterised and, if necessary, put back into operation faster and more cost-effectively. IO-Link is a digital interface that can transmit parameters automatically if an instrument is replaced.
News, events and more
Blog articles on the subject of food
Events dealing with the subject of food
Videos on the subject of food