Flare knockout drum
Level measurement in the flare knockout drum
Process data
Measuring task:
Level measurement
Measuring range up to:
4 m
Process temperature:
-50 … +30 °C
Process pressure:
0 … +100 bar
Special challenges:
High pressure, condensation
Application
The unrecoverable residues of oil and gas production are collected in the flare knockout drum and liquefied at high pressure. The recovered liquid, the condensate, collects at the bottom of the vessel and is disposed of. The non-liquefied gases are decompressed and burned in the flare system. To ensure efficient and safe operation of the vessel, the level inside must be very reliably measured.
Your benefit
Reliable
Reliable measurement, independent of process conditions
Cost effective
Ensures effective operation of the equipment
User friendly
Maintenance-free operation
Recommended products
VEGAPULS 62
Level measurement with radar in the flare knockout drum
Exact measurement, independent of process conditions
Maintenance-free thanks to non-contact measuring method
Pressure and temperature stable antenna system of metal and ceramic with graphite seal
Measuring range - Distance
Save application
Save this application as a PDF file.
PDF Download
Industry brochure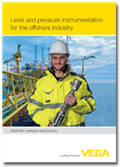 Level and pressure instrumentation for the off‹shore industry