Amine contactor
Level and pressure measurement of high pressure amine contactor
Process data
Measuring task:
Level and pressure measurement
Measuring point:
Vertical cylinder
Measuring range up to:
2 m
Process temperature:
+45 … +280 °C
Process pressure:
+3 … +120 bar
Special challenges:
Changing specific gravities, high pressure
Application
Amine contactors introduce amine solutions to the incoming natural gas from the inlet separator to remove acidic components, such as H2S and CO2, from the process stream. The operator must accurately monitor the amine collecting at the bottom of the contactor to ensure that the process is running efficiently.
Your benefit
Reliable
Measurement independent of changing process conditions
Cost effective
Low maintenance requirements reduce downtime and costs
User friendly
Broad range of process fittings allows easy retrofitting
Recommended products
VEGAFLEX 86
Continuous level measurement with guided wave radar in amine contactors
Non-moving parts are immune to mechanical failure
Robust mechanical construction is resistant to extreme process conditions
Measures accurately unaffected by changing gravity, temperature or pressure
Measuring range - Distance
VEGABAR 81
Pressure transmitter for pressure monitoring in amine contactors
Isolated diaphragm increases temperature resistance
Tough diaphragm materials provide excellent chemical resistance
Easy mechanical adaption thanks to large selection of flange and tube versions
Measuring range - Distance
Measuring range - Pressure
Save application
Save this application as a PDF file.
PDF Download
Industry brochure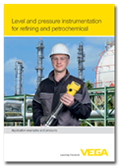 Level and pressure instrumentation for refining and petrochemical