VEGAPULS 63
Radar sensor for continuous level measurement of liquids
For aggressive liquids or under hygienic requirements
Application area
The front-flush mounting of the encapsulated antenna system ensures optimum cleaning even with strict hygienic requirements.
The VEGAPULS 63 is a radar sensor for continuous level measurement of aggressive liquids or with hygienic requirements. It is suitable for applications in storage tanks, process vessels, dosing vessels and reactors. The encapsulated antenna system of VEGAPULS 63 protects the VEGAPULS 63 against pollution and ensures a maintenance-free permanent operation. The front-flush mounting ensures an optimum cleanability even with high hygienic requirements.
Your benefit
Exact measuring results independent of process conditions
High plant availability, because wear and maintenance-free
Maintenance-free operation through non-contact measuring principle
Application
Technical specifications
Documentation
Accessories
Configure product
Level measurement of aggressive liquids under difficult process conditions – especially hygienic and chemically stable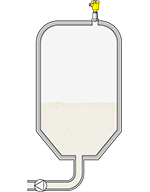 Other applications
Storage tanks for acids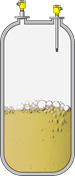 Cavity tanks
Cargo tanks on LNG carriers

Technical specifications
Measuring range - Distance
Process temperature
-196 ... 200 °C
[

°C

-

°F

]
Process pressure
-1 ... 16 bar
[

Bar

-

kPa

-

psi

]
Version
hygienically encapsulated horn antenna
Materials, wetted parts
PFA
PTFE
316L
TFM-PCTFE
TFM-PTFE
Hygenic fittings
Clamp ≥ 2", DN50 - DIN32676, ISO2852
Slotted nut ≥ 2", DN50 - DIN 11851
Varivent ≥ DN25
hygienic fitting with tension flange DN32
hygienic fitting F40 with compression nut
Hygienic screw connections ≥ DN50 tube ø53 - DIN11864-1-A
Hygienice flange connection ≥ DN50 DIN11864-2
Hygienic clamp connection ≥ DN50 pipe Ø53 - DIN11864-3-A
DRD connection ø 65 mm
SMS 1145 DN51
Housing material
Plastic
Aluminium
Stainless steel (precision casting)
Stainless steel (electropolished)
Protection rating
IP66/IP68 (0,2 bar)
IP66/IP67
IP66/IP68 (1 bar)
Output
Profibus PA
Foundation Fieldbus
4 … 20 mA/HART - two-wire
Modbus
4 … 20 mA/HART - four-wire
Approvals
Scope
ATEX / Europe
CSA / Canada
FM / USA
EAC (GOST) / Belarus
EAC (GOST) / Kazakhstan
EAC (GOST) / Russia
IEC / worldwide
KOSHA / Korea
NEPSI / China
UKR Sepro / Ukraine
IEC / Australia
Explosion protection
Intrinsic safety "i"
Flameproof enclosure "d"
Dust explosion protection through housing "t"
Ship approval
ABS
BV
CCS
DNV
GL
KR
LR
NK
RINA
RMROS
Display & adjustment
Adjustment
PLICSCOM
PC, PACTware and DTM
HART-Communicator
Software (e. g. AMS™, PDM)
Indication
Display/adjustment module PLICSCOM
VEGADIS 81
VEGADIS 82
Product information
VEGAPULS WL 61, 61, 62, 63, 64, 65, 66
Specification sheet
VEGAPULS 63
4 … 20 mA/HART - two-wire
Operating instructions
VEGAPULS 63
4 … 20 mA/HART - two-wire
Further downloads for this product
All documents and software for this product can be found in our Download Center.
Show all downloads
Indicating instruments
Controllers
Wireless communication
Separating instruments
Overvoltage protection instruments
Components
Spare parts
;
Loading device data
Configuration is being created
Loading configuration
An error has occurred
An error occurred when starting the configurator. We have documented the error and are working on it.
Please try again later. Alternatively you can contact us directly.
Thank you very much for your understanding.
Prices, delivery times & more
Log in to myVEGA to get the full functionality.
Prices & delivery times
Quotes & orders
2D & 3D drawings
Save configurations
Register now
myVEGA
With myVEGA as your personal information platform, you'll have at your disposal numerous online functions revolving around the VEGA products.
Configurator for the entire VEGA product range
Information about prices and delivery times
Order directly online
Saving of configurations
2D/3D drawings of your configured instrument
Overview of order transactions
Still no access?
Register for free
Log into myVEGA
Here you can log in with your access data in myVEGA.
Forgot password?
Forgot password
Enter your e-mail address and we will send you a link to reset your password.
Reset password Cancel
We´ve sent you an email to reset your password.
Sorry, your password could not be changed.