Sludge dewatering
Level detection of sludge and water
Process data
Measuring task:
Point level detection
Measuring range up to:
0.5 … 1 m
Medium:
Sludge/wastewater
Process temperature:
+20 ... +40 °C
Process pressure:
0 … 0 bar
Special challenges:
Abrasion, buildup
Application
The digested sludge is dewatered prior to drying in centrifuges or filter presses. The sludge liquor thus obtained passes through the cleaning process of the WWTP once again. A level detector controls the pumps in the filter water tank to prevent overfilling. The discharge of the dewatered sludge is controlled by a point level sensor.
Your benefit
Reliable
Reliable monitoring of the dewatering process
Cost effective
Optimal operation of the equipment
User friendly
Robust, maintenance-free sensor technology
Recommended products

VEGASWING 63
Point level detection in the filter water tank for pump control

Reliable point level switching, even with changing water composition
Adjustment-free and easy to install
Maintenance-free operation
Version
Standard
Hygienic applications
with gas-tight leadthrough
with tube extension
with temperature adapter

VEGACAP 65
Full signal for detecting the filter cake during discharge

Reliable point level detection, even with adhesive media
Simple sensor installation and adjustment
Maintenance and wear free operation
Measuring range - Distance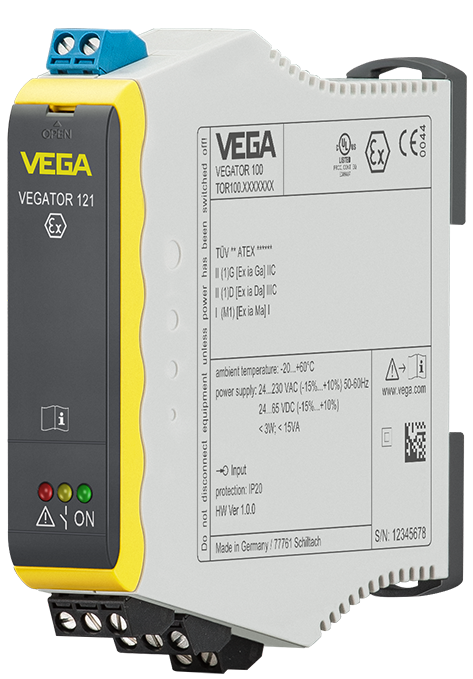 VEGATOR 121
Single channel controller for level detection
Comprehensive monitoring detects short-circuit and line break of the measuring cable and interferences in the sensor
Simple and comfortable SIL and WHG function test by means of test key
Simple installation through carrier rail mounting as well as detachable, coded terminals
Input
1 x sensor input two-wire 8/16 mA
Output
1 x operating relay (SPDT)
Optionally 1 x fail safe relay output (SPDT)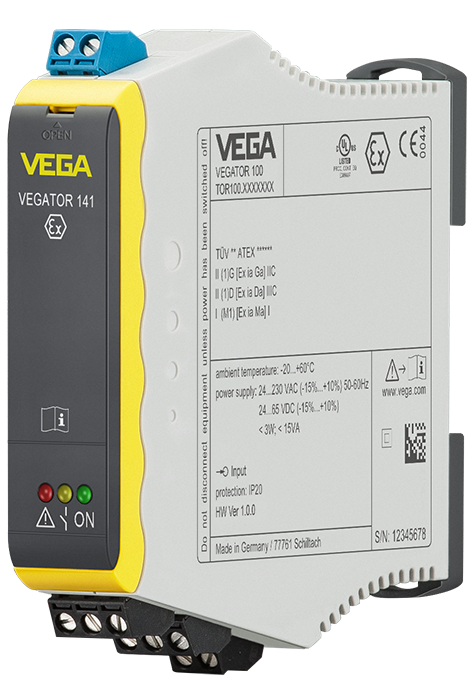 VEGATOR 141
Double channel signal conditioning instrument for level detection
Simple adjustment of the switching point through a potentiometer
Clearly visible switching status via LED
Simple installation through carrier rail mounting as well as detachable, coded terminals
Input
1 x 4 … 20 mA sensor input
Output
1 x operating relay (SPDT)
Optionally 1 x fail safe relay output (SPDT)