Grit washer
Measurement of sand concentration in the sand washer
Process data
Measuring task:
Level measurement
Measuring range up to:
0 … 5 m
Medium:
Water-sand mixture
Process temperature:
0 … +35 °C
Process pressure:
0 … +1 bar
Special challenges:
Abrasion
Application
Before the settled out sand can be used as recycled material, it is cleansed of organic matter in the sand washing plant. The washed sand is then dewatered in a screw press and discharged into a storage vessel. The discharge of the washed sand is controlled by a pressure transmitter.
Your benefit
Reliable
Ceramic sensor ensures reliable, accurate measurement
Cost effective
Maintenance-free operation of the measuring system
User friendly
Simple installation and adjustment
Recommended products
VEGABAR 82
Measurement of the concentration of washed sand for discharge control
Measurement of sand height via hydrostatic pressure measurement
Wear-free ceramic measuring cell ensures reliable operation
High accuracy even with small measuring ranges
Measuring range - Distance
Measuring range - Pressure
Save application
Save this application as a PDF file.
PDF Download
Industry brochure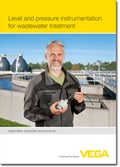 Level and pressure instrumentation for wastewater treatment