Feeding barges
Level measurement and point level detection during the distribution of feed pellets
Process data
Measuring task:
Level measurement and point level detection
Measuring range up to:
10 m
Process temperature:
-20 … +30°C
Process pressure:
0 … 0 bar
Special challenges:
Dust generation, buildup
Application
To feed the fish, automatic systems distribute feed pellets from the storage containers. In floating facilities, there are several storage containers located next to the "grow-out tanks" for this purpose. These are continuously monitored in order to reliably measure the amount of feed extracted. In this way, evenly distributed feed quantities can be ensured over the entire lifetime of the fish.
Your benefit
Reliable
Measurement technology unaffected by buildup and soiling
Cost effective
Absolutely maintenance-free measurement technology
User friendly
The level can be read-out from anywhere
Recommended products

VEGAPULS 6X
Non-contact level measurement with radar in the storage tank
Reliable measurement, unaffected by dust and buildup
Simple wireless data transmission and remote diagnosis
Exact measuring results thanks to good focusing
Measuring range - Distance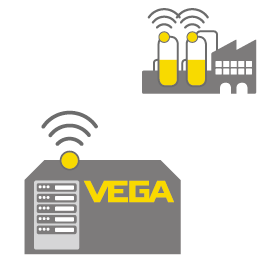 VEGA Inventory System
Software for data acquisition and visualisation of level data
Easy access to live data around the clock
Accurate, up-to-date information on tank levels
Simplified management through a wide range of functions
Fully automatic and timely notification of re-supply requirements
Increased security of supply

VEGAWAVE 61
Vibrating level switch for level detection in silos
Reliable detection ensured by robust sensor construction
Maintenance-free measurement technology, therefore no maintenance costs
Switching point independent of product or environmental influences
Measuring range - Distance