Gearbox oil tank in a wind turbine
Oil tank point level detection in the rotor gearbox
Process data
Measuring task:
Point level detection
Measuring range up to:
1 m
Process temperature:
-10 … +80 °C
Process pressure:
0 … 0 bar
Special challenges:
Vibration, changing outdoor temperatures
Application
In wind turbines, efficiency has top priority: the higher the availability of a turbine, the higher the profitability and the faster the investment pays off. Wind power is transferred from the turbine to the generator via a rotor gearbox. Full lubrication of all moving parts ensures a long service life and high availability of the wind turbine, thus making it essential for the oil level in the rotor gearbox to be constantly and reliably monitored.
Your benefit
Reliable
Media-independent switching point
Cost effective
Protection against wear through continuous oil lubrication
User friendly
Compact dimensions allow easy integration into any system
Recommended products
VEGASWING 51
Dry run protection with vibrating level switch in the oil tank of a rotor gearbox
Media-independent switching point guarantees high dependability
Fast setup and commissioning, because adjustment requires no medium
Compact instrument dimensions allow easy installation

Measuring range - Distance
Save application
Save this application as a PDF file.
PDF Download
Industry brochure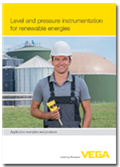 Level and pressure instrumentation for renewable energies