Anti-heeling system
Level measurement and point level detection in the ballast water tanks
Process data
Measuring task:
Level measurement and point level detection
Measuring range up to:
10 m
Process temperature:
0 … +30 °C
Process pressure:
0 … 1 bar
Special challenges:
Pressure surges, fast measurement changes, corrosive seawater, ship approvals
Application
Ship heeling caused by high winds, uneven cargo loading or the forces of sharp turns is counteracted by anti-heeling systems. To counter these conditions, ballast tanks are connected to each other by means of pipe systems. Depending on the attitude of the ship, the tanks are either blown out or flooded by means of compressed air blowers or pumps. Reliable level measurement is needed to control this system.
Your benefit
Reliable
Maximum safety for humans and the environment
Cost effective
Reliable measurement of the amount of water in all tanks
User friendly
Simple installation and maintenance-free operation
Recommended products
VEGASWING 61
Vibrating level switch as overfill and pump dry run protection in the ballast tanks
Wear and maintenance-free, as no mechanical moving parts involved
Reliable detection of the limit level without adjustment
Durable device with seawater resistant materials
Measuring range - Distance
VEGAWELL 52
Hydrostatic level measurement in the wing tank
Precise level measurement and control of the anti-heeling system
Fast response and excellent long-term stability with oil-free, ceramic-capacitive CERTEC® measuring cell
Reliable measurement even under extreme pressure shocks thanks to overload resistant ceramic CERTEC® measuring cell
Measuring range - Pressure
Save application
Save this application as a PDF file.
PDF Download
Industry brochure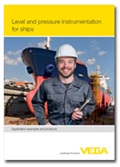 Level and pressure instrumentation for ships