Storage tank in an ethanol plant
Level measurement and point level detection in the ethanol storage tank
Process data
Measuring task:
Level measurement and point level detection
Measuring range up to:
15 m
Process temperature:
-10 … +40 °C
Process pressure:
0 … 5 mbar
Special challenges:
Vapours, temperature fluctuations
Application
After going through all process steps, the bioethanol is stored in a tank ready for delivery to the consumer. Accurate measurement of the tank contents is an important prerequisite for fiscal inventory, reliable logistics planning and ensures a sufficient supply for customers. Since the tanks can often not be emptied after an initial filling, maintenance-free operation and setup without product are crucial considerations for the measurement technology.
Your benefit
Reliable
Reliable level measurement ensures safe operation of the ethanol depot
Cost effective
High-precision measurement allows optimal utilization of the tank volume
User friendly
Installation from top, offers easy mounting and simple adjustment, even when tank is full
Recommended products
VEGAFLEX 81
Level measurement with guided radar in the bioethanol storage tanks
High accuracy, unaffected by medium and vapours
Simple mounting from above greatly facilitates retrofitting
High reliability through device accreditation to SIL2/3
Measuring range - Distance
VEGASWING 63
Level detection with vibrating level switch as overfill protection in the bioethanol storage tanks
Adjustment-free setup and maintenance-free operation
Simple function test via keystroke
Reliable point level measurement in compliance with SIL2 and WHG
Version
Standard
Hygienic applications
with gas-tight leadthrough
with tube extension
with temperature adapter
Save application
Save this application as a PDF file.
PDF Download
Industry brochure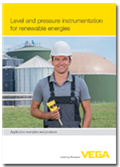 Level and pressure instrumentation for renewable energies