Mineralisation tank
Point level detection in the mineralisation tank
Process data
Measuring task:
Point level detection
Measuring range up to:
Limit level
Process temperature:
+5 … +30 °C
Process pressure:
+1 … +3 bar
Special challenges:
Confined spaces
Application
Various methods are used to replenish the demineralised water with the minerals required in healthy drinking water. One method is to pass the water through a container filled with limestone, enriching it with mineral substances. The filling of the container is monitored with the help of a point level switch.
Your benefit
Reliable
Approved materials according to FDA and EC 1935/2004 regulations as well as country-specific approvals
Cost effective
Long service life through maintenance-free operation
User friendly
Simple integration of sensors
Recommended products

VEGAPOINT 21
Capacitive level switch for point level detection in the mineralisation tank
360° status display for quick and easy recognition of switching status
Simple integration into existing control systems through IO-Link communication
Small installation dimensions for tight spaces
Measuring range - Distance
Save application
Save this application as a PDF file.
PDF Download
Industry brochure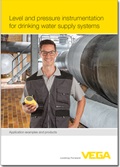 Level and pressure instrumentation for drinking water supply systems