Heat recovery boiler
Level measurement and point level detection in the heat recovery boiler
Process data
Measuring task:
Level measurement and point level detection
Measuring range up to:
3 m
Process temperature:
+300 ... +450 °C
Process pressure:
+100 … +160 bar
Special challenges:
Strong fluctuations of density, conductivity and dielectric constant of the hot water
Application
In the heat recovery boiler, hot process gas is passed through heating pipes. This means the gas is cooled and the necessary process heat for the plant recovered to be reused. To prevent the heat recovery boiler from running dry and thus overheating, reliable monitoring of the water level in the boiler is required. For maximum safety, the measurement is carried out redundantly with diverse instrument technology.
Your benefit
Reliable
Reliable function under all operating conditions
Cost effective
Maintenance-free instrumentation technology
User friendly
Automatic steam condensation
Recommended products

VEGAFLEX 86
Continuous level measurement with guided radar in the heat recovery boiler
Vapour compensation enables reliable measurement despite changing pressures and temperatures
Special ceramic-graphite seal can be used up to 450 °C
Available with SIL2 and boiler approvals for assured safety
Measuring range - Distance

VEGASWING 66
Vibrating level switch for reliable detection of minimum and maximum water level
High level of safety via self-monitoring of sensor element and electronics at high process temperatures and pressures
Redundant measurement for maximum safety
Available with SIL2 and boiler approvals
Fast and reliable function test by press of a button
Version
Compact version
with gas-tight leadthrough
with tube extension
Save application
Save this application as a PDF file.
PDF Download
Industry brochure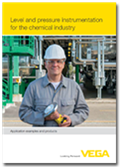 Level and pressure instrumentation for the chemical industry