Reactor
Level measurement in a reactor
Process data
Measuring task:
Level measurement
Measuring range up to:
15 m
Medium:
A variety of liquids
Process temperature:
-40 … +450 °C
Process pressure:
-1 … +160 bar
Special challenges:
Changing media, turbulent product surface, stirrers
Application
High temperatures, pressures and vacuums are techniques usually employed to make reaction processes more efficient and economical. This is a big ­challenge for engineering, because the sensors used have to deliver ­reliable measurements under these conditions. To be able to meet the diverse ­requirements of reaction vessels, sensors for level measurement have to meet a very wide range of application conditions.
Your benefit
Reliable
Reliable measurement independent of the process conditions
Cost effective
Non-contact and wear-free measurement
User friendly
Simple adjustment and operation
Recommended products
VEGAPULS 62
Continuous level measurement with radar in the reactor
Trustworthy level measurement, independent of process conditions such as temperature, pressure, reaction gases or built-in agitator

Level is reliably detected despite the effects of changing conditions or mixing processes

Wide range of applications possible thanks to high temperature and pressure range up to +450 °C and +160 bar
Measuring range - Distance
Save application
Save this application as a PDF file.
PDF Download
Industry brochure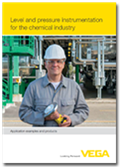 Level and pressure instrumentation for the chemical industry