Storage tanks for toxic liquids
Level measurement and point level detection in toxic liquids storage
Process data
Measuring task:
Level measurement and point level detection
Measuring range up to:
35 m
Medium:
Toxic liquid media
Process temperature:
-50 … +250 °C
Process pressure:
-1 … +64 bar
Special challenges:
Highly toxic media, chemically aggressive media, volatile media
Application
Some chemical processes generate extremely toxic intermediates that have to be stored under the most stringent security measures. In order to be used in this application, the measurement technology must meet specific requirements in terms of design and functional reliability. A redundant sealing concept, an optional glass feedthrough (Second Line of Defense) and highly resistant materials provide the necessary security for the storage and processing of toxic media.
Your benefit
Reliable
Configuration of the measuring system ensures maximum safety for people and the environment
Cost effective
High availability and maintenance-free operation
User friendly
Fast installation and simple setup
Recommended products
VEGAPULS 62
Continuous level measurement with radar in the storage tank for toxic media
Non-contact measuring principle is independent of media properties
Maximum safety with toxic media, thanks to ceramic process separation and additional glass sealing
Highly resistant materials ensure a long service life
Maintenance-free operation
Measuring range - Distance

VEGASWING 63
Vibrating level switch for point level detection in the storage tank for toxic media
Universally applicable for almost all liquids
Additional safety through glass seal that ensures even better separation from the process (Second Line of Defense)
Simple setup without calibration
Test button for easy testing of instrument functionality during operation
Version
Standard
Hygienic applications
with gas-tight leadthrough
with tube extension
with temperature adapter
Save application
Save this application as a PDF file.
PDF Download
Industry brochure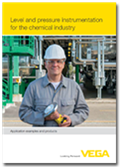 Level and pressure instrumentation for the chemical industry