Fixed roof storage tanks
Level measurement and point level detection of fixed roof storage tanks
Process data
Measuring task:
Level measurement and point level detection
Measuring range up to:
15 m
Medium:
Light or heavy hydrocarbon
Process temperature:
-40 … +50 °C
Process pressure:
0 … 0 bar
Special challenges:
Varying hydrocarbon products, possible condensation
Application
Level measurement of crude and bulk liquids storage tanks in a refinery is necessary for inventory management and overspill protection. Multiple measurement devices can fit into a single process fitting.
Your benefit
Reliable
Redundant measurement ensures a high degree of safety
Cost effective
Self-monitoring reduces maintenance costs
User friendly
Easy installation and setup
Recommended products
VEGAPULS 62
Level measurement with radar in fixed roof storage tanks
Simple retrofit capability utilizes existing process Fittings
Exact measuring results independent of temperature, gas or steam
Use of optional PLV (Positive Level Verification) system fulfils API 2350 requirements
Measuring range - Distance
VEGASWING 63
Vibrating level switch for overfill protection in fixed roof storage tanks
High level switch provides redundancy
By simply pushing a button, you can meet the legal requirements of the periodic test in seconds
Unaffected by media properties ensures reliable measurement
Version
Standard
Hygienic applications
with gas-tight leadthrough
with tube extension
with temperature adapter
Save application
Save this application as a PDF file.
PDF Download
Industry brochure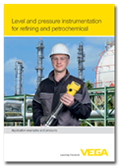 Level and pressure instrumentation for refining and petrochemical