Compact pressure switches with 360° switching status display
The new pressure switches of the VEGABAR series are perfectly tailored to standard applications.
Operation via smartphone
Hygienic Design
Easy integration thanks to IO-Link
A luminous advantage:
360° switching status display
Thanks to the 360° switching status display, all switching states can be visually detected from any direction. The colour of the illuminated ring remains clearly visible even in daylight, also because it can be freely selected from over 256 colours.
At first glance, it can be seen whether the measuring process is running, whether the sensor is switching or whether there is possibly a fault in the process.
NEW! Our digital newspaper
Get to know the new ePaper format. Learn all about the new compact pressure sensors and level switches
for automation and how they can provide greater visibility in manufacturing processes.
VEGA NEWS as digital newspaper:
Integrated 3D animations and application solutions
Interactive elements and links to YouTube videos
All technical data and drawings of the new sensors
Read now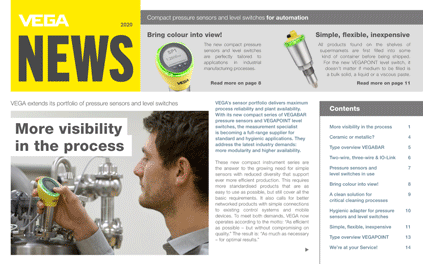 Pressure sensors
Pressure sensors

Metallic measuring cell

for high pressures

Ceramic measuring cell

resistant to temperature shocks, abrasion resistant

4 … 20 mA
From ½" thread
M12x1

4 ... 20 mA, 3-wire output, IO-Link
From ½" thread, universal connection for hygienic adapter, hygienic fittings
M12x1, ISO 4400, cable outlet
Hygienic, Ex, ship approval
360° switching status display


4 ... 20 mA, 3-wire output, IO-Link
From ½" thread, universal connection for hygienic adapter, hygienic fittings
M12x1, ISO 4400
Hygienic, Ex, ship approval
360° switching status display
On-site display and 3-key operation


plics® instrument platform

Custom-made sensors for any measuring task
Diverse connection options
Pressure sensors for all measuring tasks: from simple to complex
With the new pressure switches, VEGA completes their sensor portfolio and becomes a complete supplier for pressure instrumentation. Above all, food and pharmaceutical processes benefit from the selection of pressure sensors and pressure switches: the sensors of the VEGABAR series solve hygiene-sensitive standard applications as well as demanding measuring tasks. Discover the solutions for your application:
Hygienic design down to the last detail
For a reliable production
Time is an increasingly decisive factor for food and pharmaceutical processes, and hygienic production in particular requires a lot of it.
However, in view of the high requirements for cleanliness, this presupposes that you can fully rely on the cleaning process. It requires measurement technology whose geometry does not allow the microorganisms to settle in dead spaces and at the same time is capable of cleaning and sterilizing the processes.
Surfaces and material
All surfaces of VEGABAR 29 and 39 sensors that come into contact with the medium are made of stainless steel and have optimumroughness values
. All materials are approved and tested across the board by the bank according to FDA and EG 1935/2004. This has been confirmed by independent laboratories and institutes. The design of the devices is certified according to the European EHEDG Directive and the North American 3-A
Resistant and stable to temperature with CIP and SIP
VEGA sensors have been specially developed for the needs of the food industry, which are fulfilled by reliably protected seals, all-metal housings and media-contacting surfaces with a low surface roughness approaching 0.3 µm.
FDA
EG 1935/2004
EHEDG
3-A
Uniform hygiene adapter system
More flexibility, less stock keeping
The hygiene-compliant adapter system of VEGABAR pressure sensors has a flexible design:
Flexibility in adapter selection
Adaptation to customer-specific process fittings
Quick and easy replacement

Interconnected solutions
Online-Tools
During the development of the new compact device series, the focus was also on simple assembly and operation. In this way all parameters can be set quickly. Via the VEGA Tools app also wirelessly via smartphone or tablet. With myVEGA you also get all the information you need about your products.
Wireless adjustment
With Bluetooth, VEGA is looking far into the future. But already today, radio technology is making processes more and more flexible. Wireless communication provides better accessibility: in clean rooms, in harsh industrial environments and in hazardous areas. It allows parameterisation, display and diagnostics from a distance of up to 25 metres, thus saving time and avoiding dangers. Simply via VEGA Tools app – on any available smartphone or tablet.
myVEGA
With myVEGA as your personal information platform you have access to numerous online functions relating to the VEGA products.
2D/3D drawings of configured instruments
Access to product documentation and order data
Access codes for VEGA sensors
IO-Link
VEGA uses IO-Link to make optimal use of all possibilities. With this manufacturer-independent, standard communication tool, sensors can be installed, parameterised and, if necessary, put back into operation faster and more cost-effectively. IO-Link is a digital interface that can transmit parameters automatically if an instrument is replaced.
Not what you're looking for?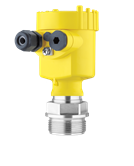 Pressure sensors for demanding applications
Also for measuring tasks with high pressures, in vacuum or with extremely abrasive media: VEGA offers the right sensor.

Also new: VEGAPOINT series point level switches
Discover the new capacitive point level switches with 360° switching status display. Reliable even with buildup.
Our service for you
Consultation
Every application is different and has its own special challenges.
You'd like to talk with an expert and work out together with him which sensor best fulfils your requirements?
Just give us a call. We're happy to give advice and help you select the right instrument.